From an up-high aerial perspective that glances over the horizon, the city of Kuala Lumpur is a mere set of artificial, miniature blocks and buildings. YONGL created this series as a re‑imagination of Kuala Lumpur in a world of surrealism where nature, being the powerful force that it is, seeps into the city and becomes one with it. YONGL illustrates the importance of mankind choosing to coexist with nature; one of the most fundamental building blocks of our existence. 

In this series, YONGL depicts a high and mighty "cornscraper" that stands in contrast against the metropolitan background of urban Kuala Lumpur. The juxtaposition of a natural, earthen creation such as corn asserting its dominance over industrial buildings and blending into a cosmopolitan society reminds mankind of the importance of nature, even in our modern-day society. Nature is and should be in our city for it once flourished in the lands that our skyscrapers are built upon.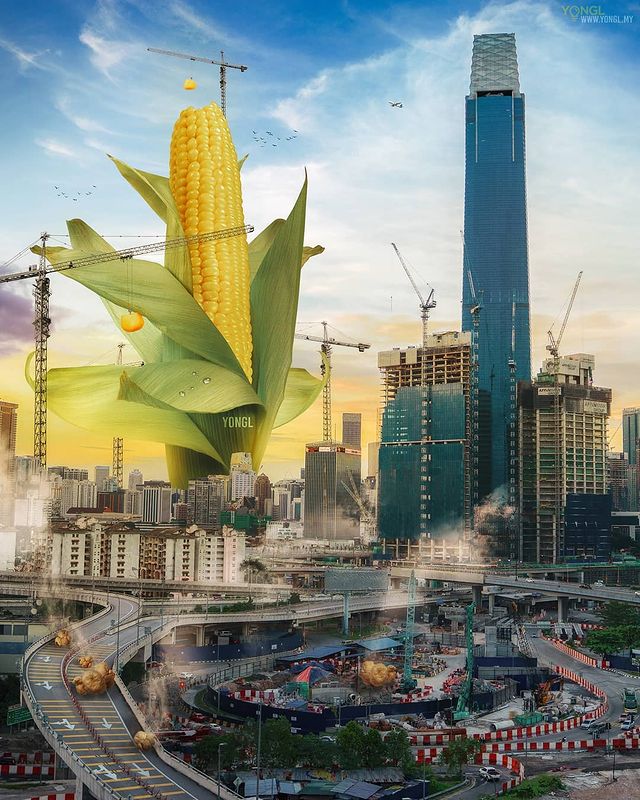 Through this series, YONGL reminds us that the cities in which we believe we are separate from nature are being held together by the essence of it. We are not apart from nature, we are a part of nature. We build skyscrapers to develop our quality of life but nature builds corn that sustains our lives. YONGL suggests that by sustaining our nature and our ecosystem, we can build our society to be better and to soar to great heights like the cornscraper built from small, individual kernels.

YONGL draws inspiration from his real life experiences and conveys his stories through photographs that his fellow Malaysians can relate to. With pieces influenced by his hometown and Malaysia's independence day, YONGL bridges the connection between our nostalgic early years which bore a good deal of nature and the contemporary present which is shifting towards an urban landscape.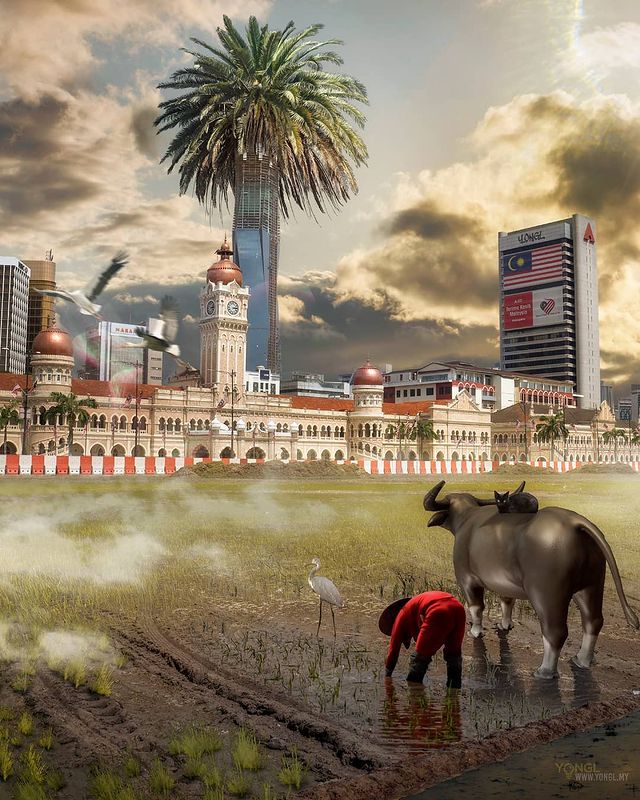 Humans aren't the only life forms in the ecosystem, YONGL reminds us of the free birds and busy bees that live among us in the cities but work in their offices of nature. YONGL depicts a concrete jungle that is home to the same creatures that live in a real one.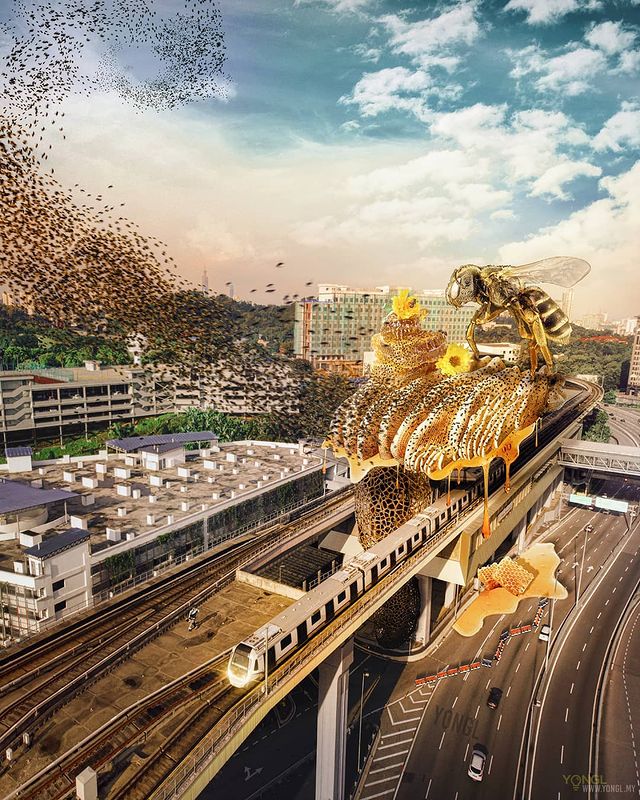 Lest we forget the creatures that dwell in the seas that surround our Peninsular. Inspired by the shapes and forms of real life architecture, YONGL reimages sea creatures in submerged versions of the cities and towns we call home.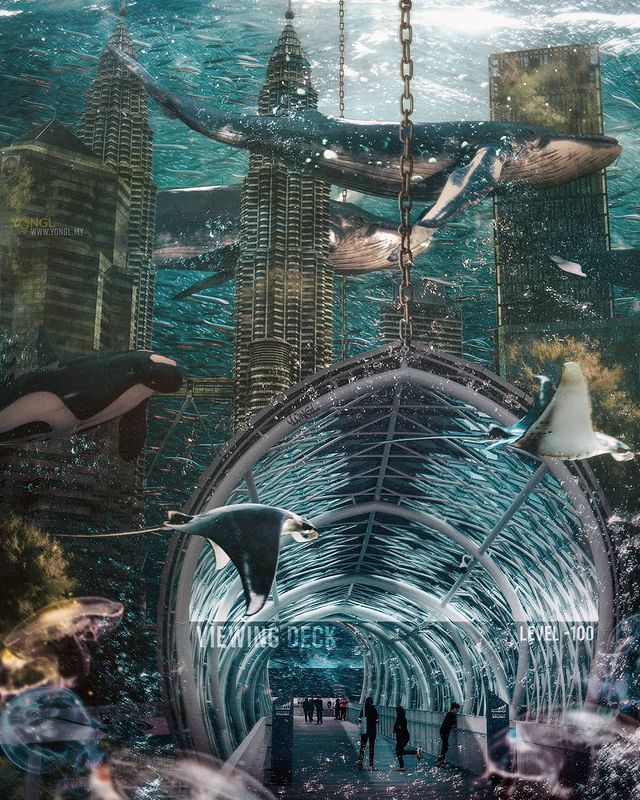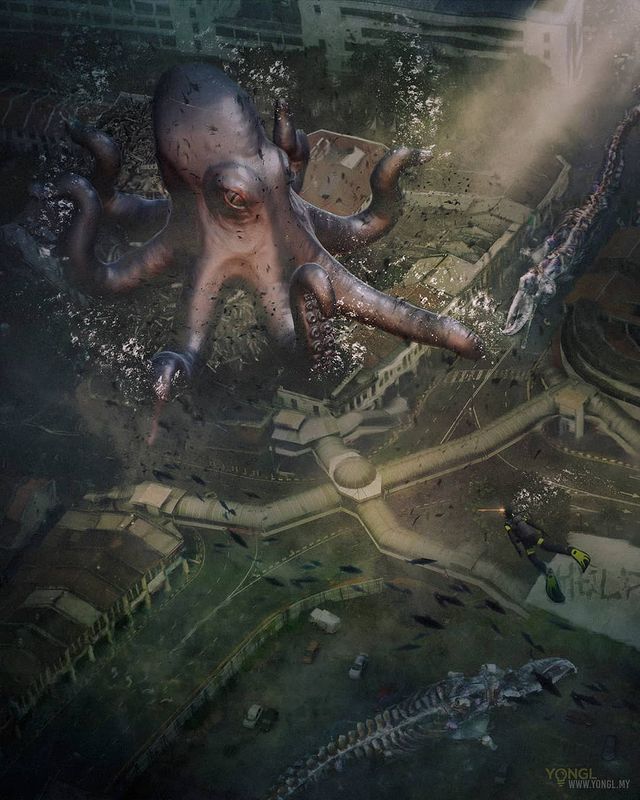 Whether it's a corn-fusing perspective that tells a story of nature being so high in stature that it looks down upon our city's skyscrapers, a fusion of the old and the new, a conceptualization of insects as workers, or a metaphor for how we're quarantined in a bubble, YONGL can convey the message via photography.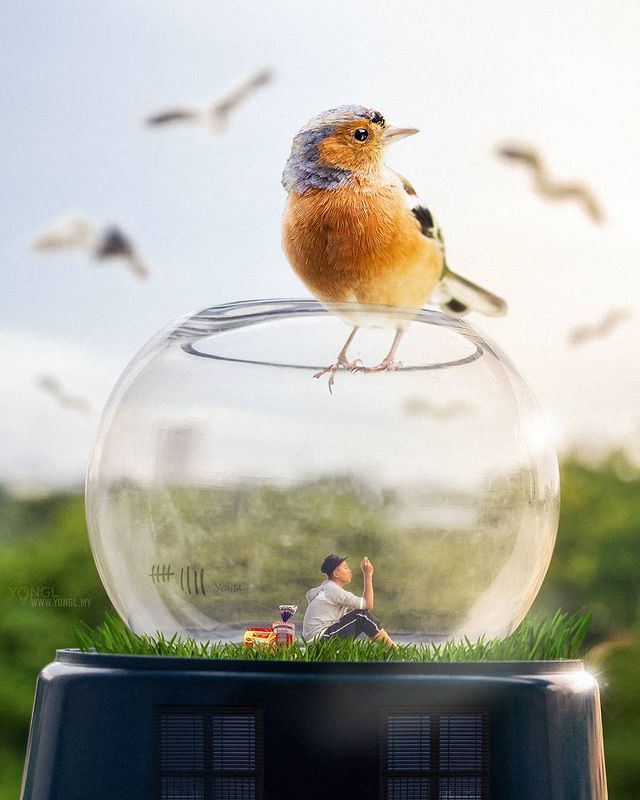 YONGL continues to create and inspire Malaysians by depicting the bits and pieces of their everyday life against a backdrop of surrealism. Check out feature stories about YONGL on Free Malaysia Today, the Sun Daily and World of Buzz. Stay updated with YONGL's latest works on his Instagram and Facebook.