Mountains are essential formations on the face of Mother Earth that play an important role in our planet's ecosystem — but what happens when they begin to disappear from our natural landscapes? In this photo series, YONGL visits the disappearing mountain of Ipoh and documents the human impact on the natural environment of this city in Northwestern Malaysia.

A few months ago, a viral photograph of a heavily logged mountain in Simpang Pulai, Ipoh made its rounds on social media platforms and eventually landed on YONGL's Facebook feed. After bearing witness to the amount of damage this mountain had sustained due to quarrying activities in the area, YONGL decided to pay a visit to the site in person. What followed was a journey to Ipoh where YONGL would photograph the disappearing mountain and reimagine what the natural formation would look like without human intervention.

With the use of tools that humans use on a daily basis to "remove" parts of a whole, YONGL tells a pictorial story about how human hands have 'consumed' the mountain of Simpang Pulai until it is stripped bare.

Human beings have cut it into pieces,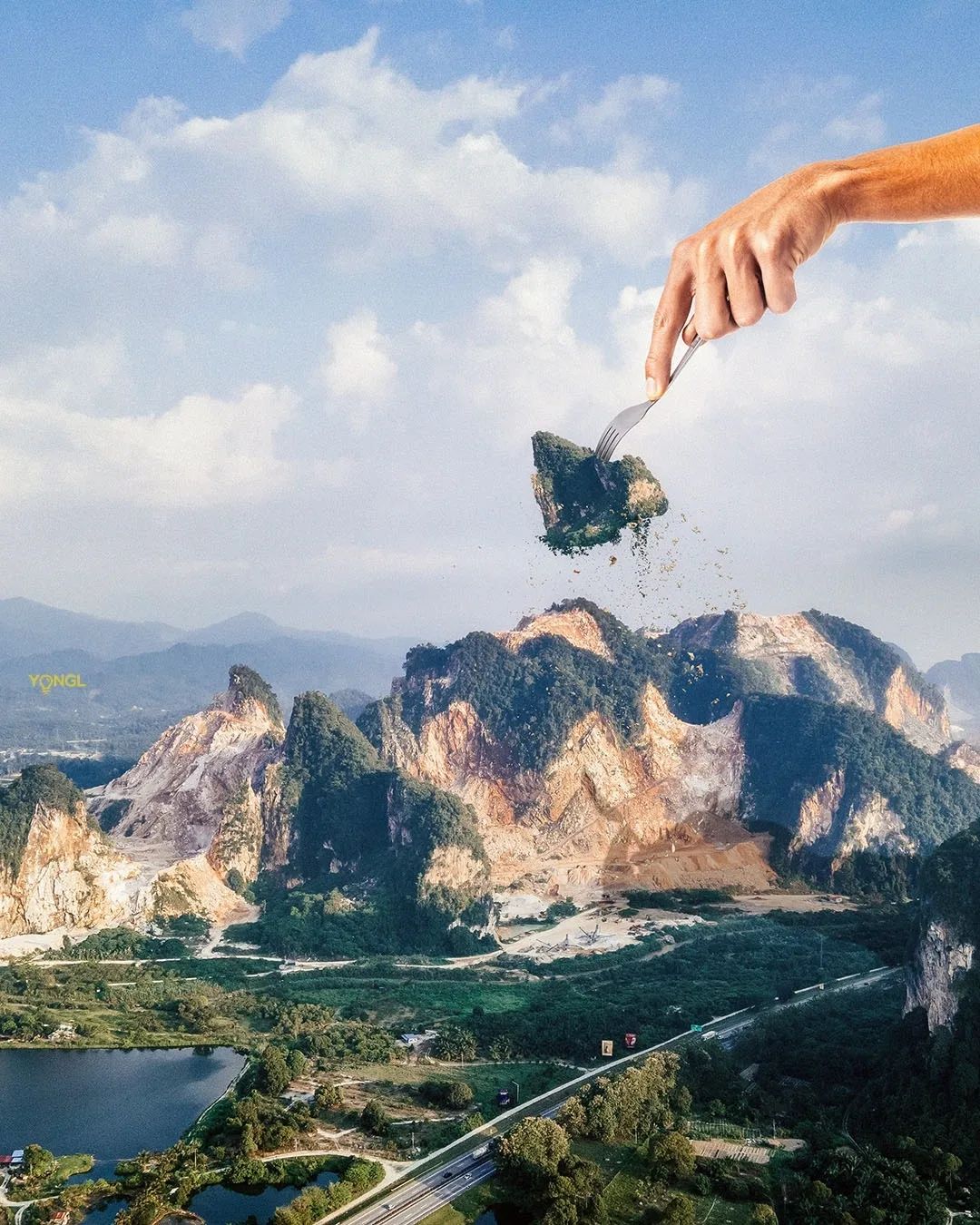 scooped it up,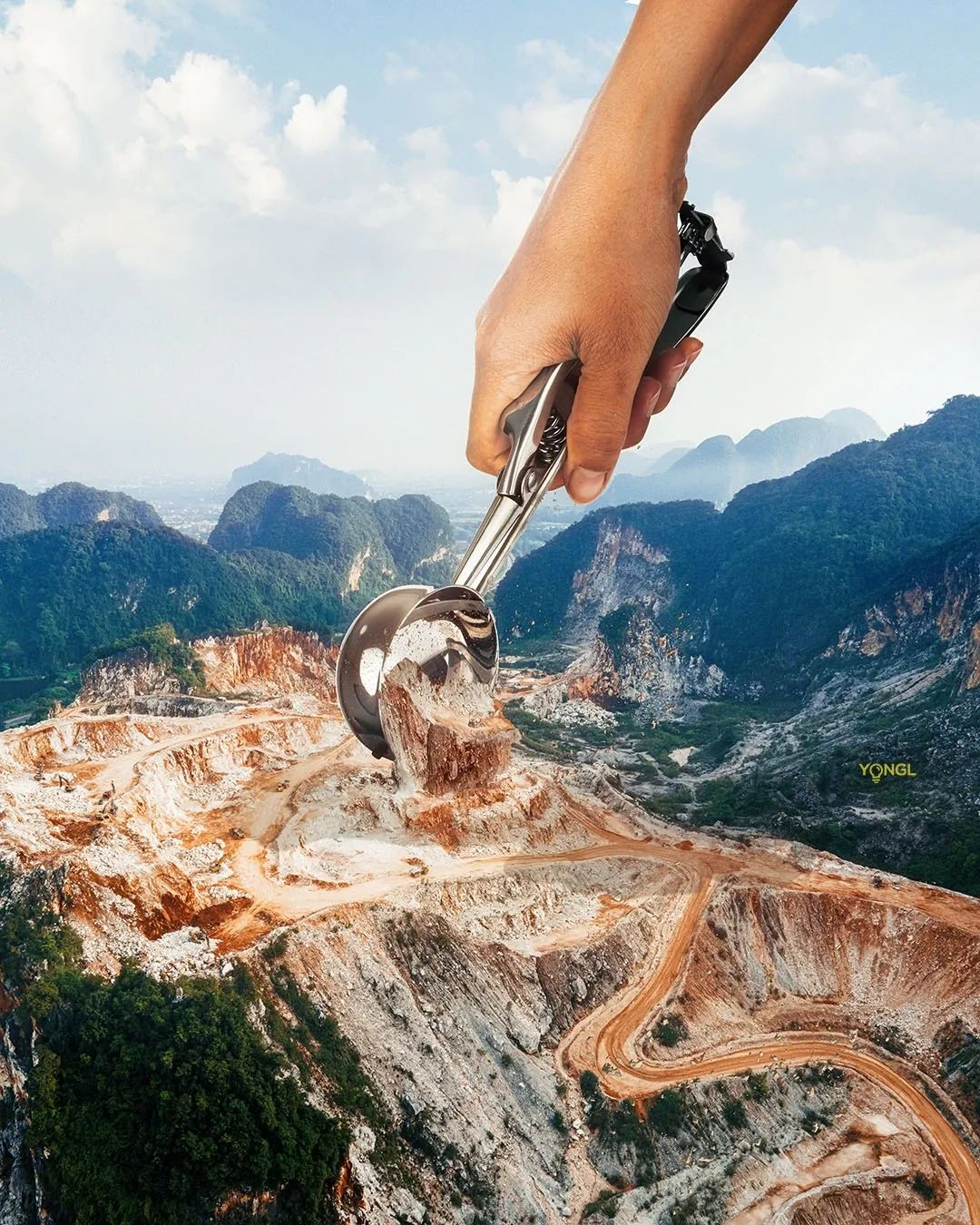 and shaved it until it no longer has its cloak of green covering it as natural protection.

The mountain of Simpang Pulai now stands as a shell of its former self with its insides exposed to external elements that increase the risk of erosion. The bare mountain also poses a threat to the citizens of Ipoh; apart from being an eyesore that contrasts the greenery of the beautiful natural landscape, the deforestation in the area has caused temperatures to increase in the locality which has resulted in unfavourable weather conditions. As the limestone quarrying industry is one of the biggest contributors to Perak's economy, the locals are concerned that such quarrying activities will spread to the other mountains in the surroundings and eventually result in a complete deforestation of the area.

In order to drive his point home, YONGL reimagined what the mountains would look like in the present day if they had not been subjected to any mining and quarrying activities. The results are a shocking, striking contrast of an evergreen tree-covered mountain camouflaged within its green landscape in opposition to a naked rock formation that has been stripped bare to reveal the limestone within that loudly contradicts the green in its surroundings.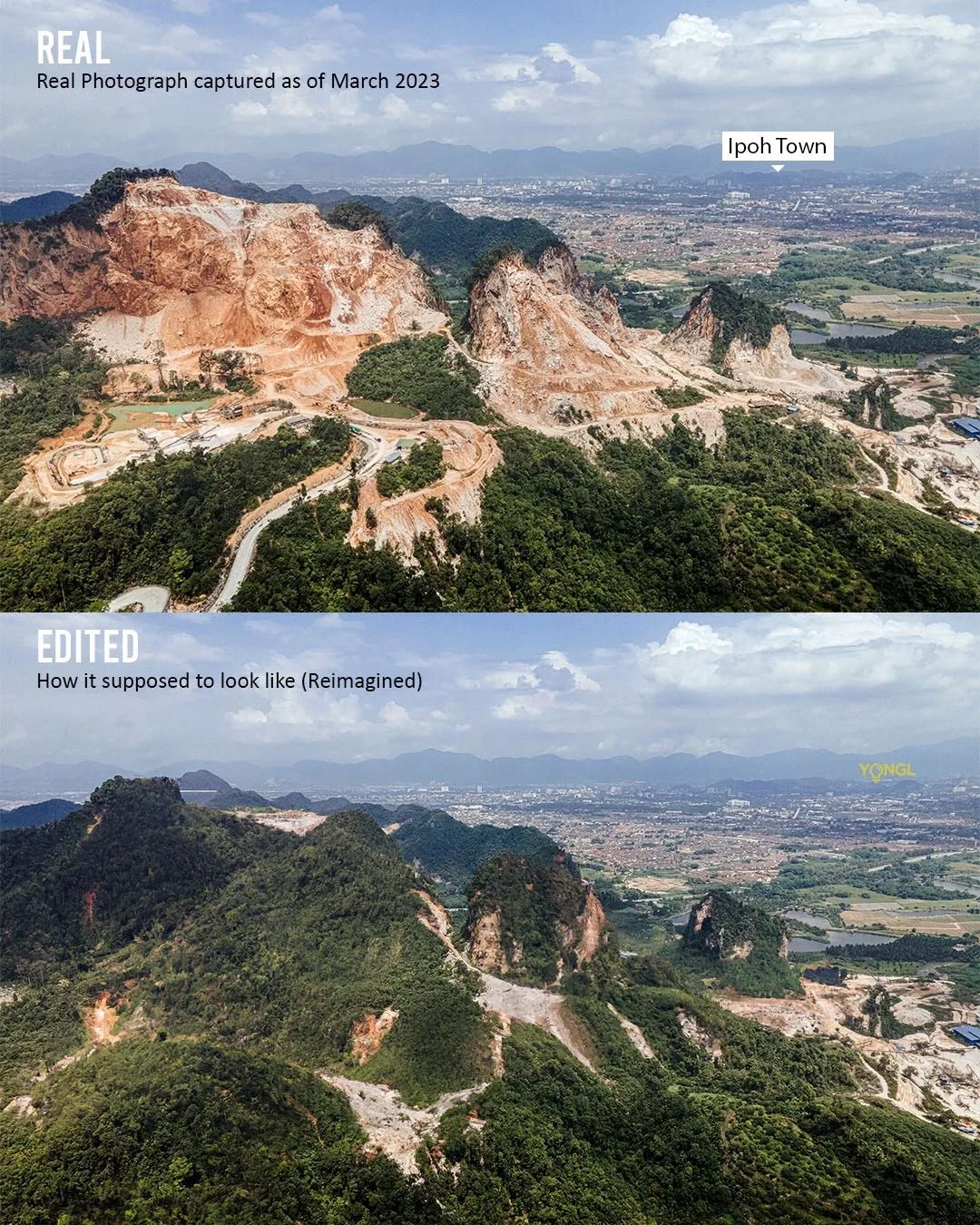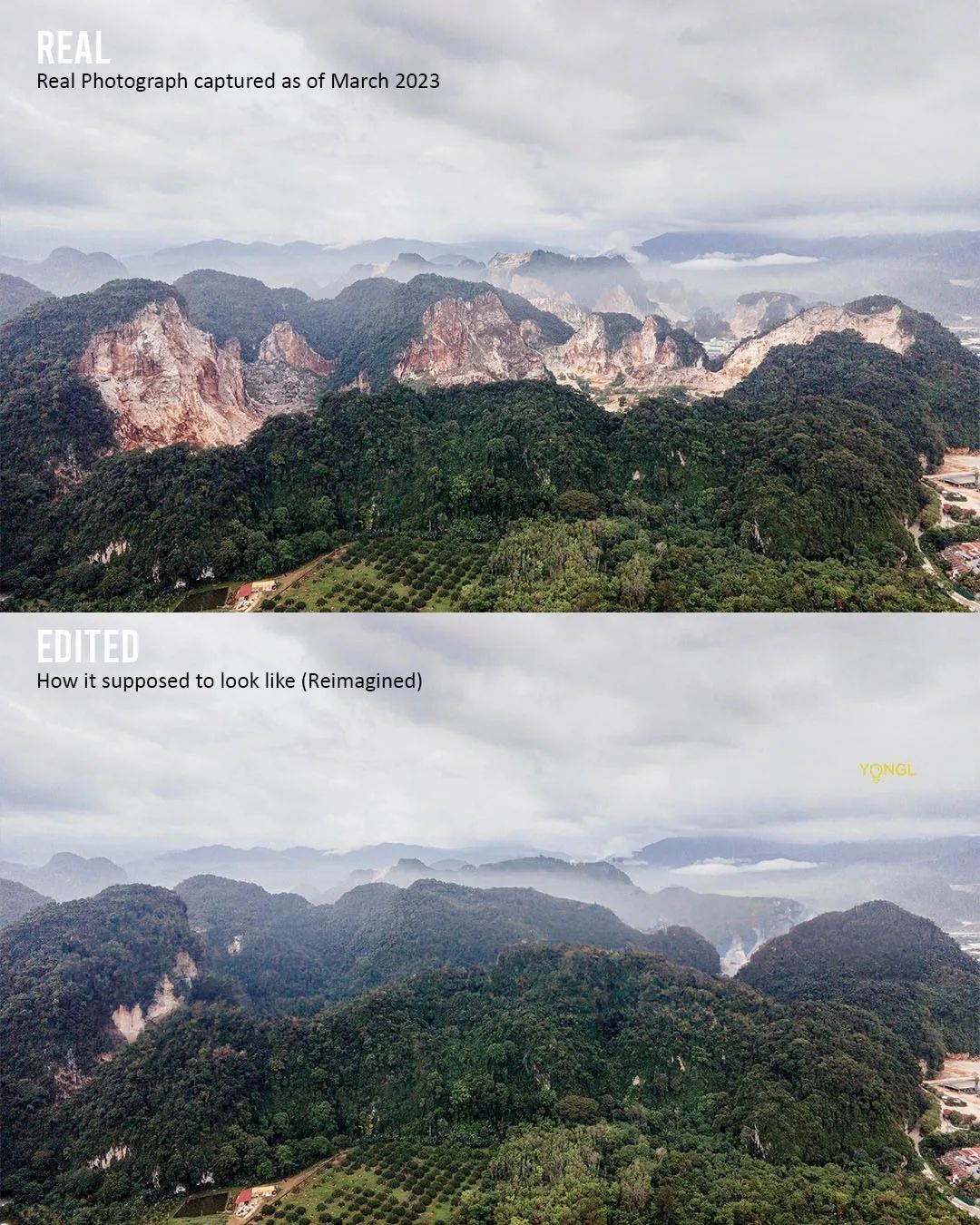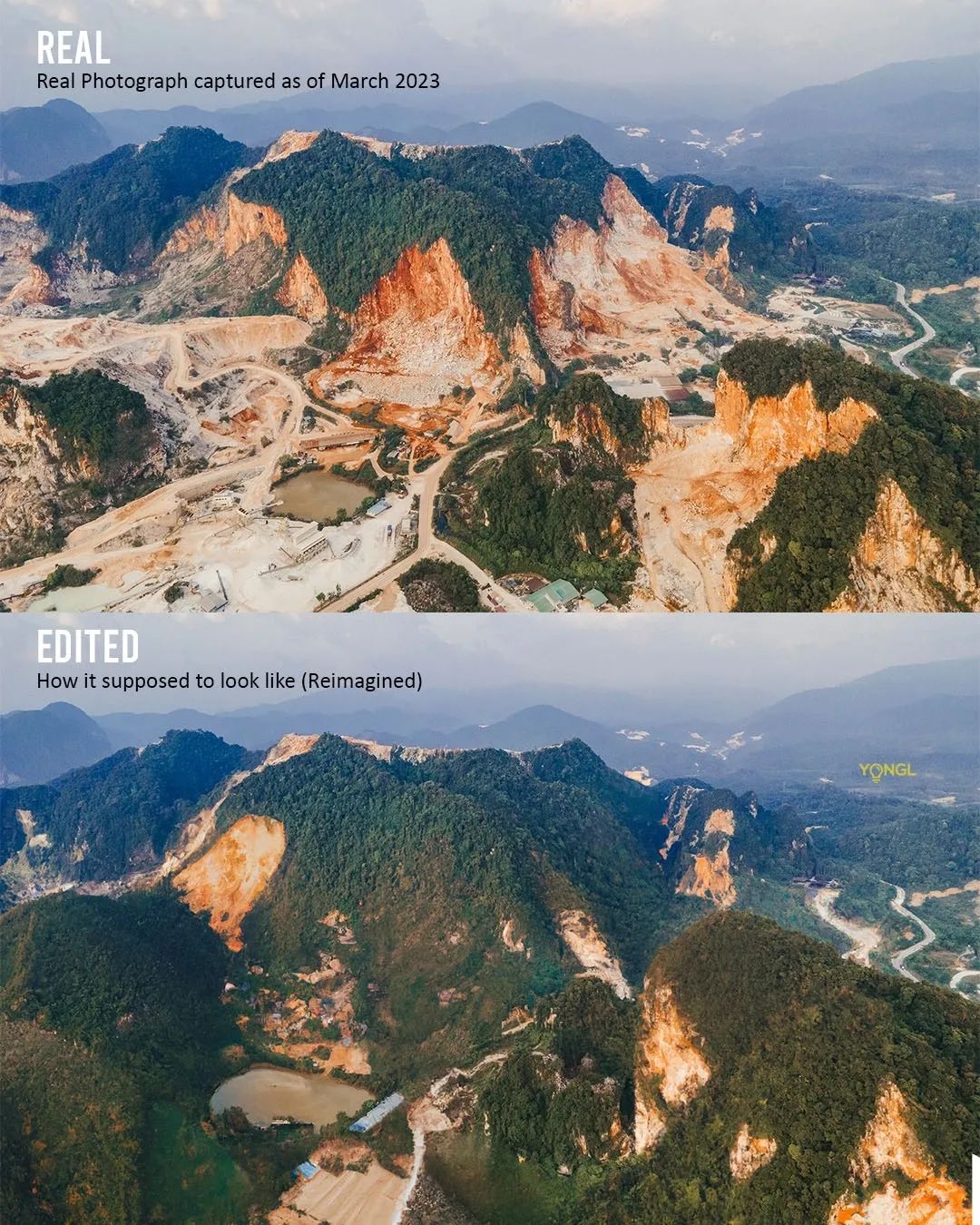 While YONGL may not be a journalist or environmental activist, he still advocates for the preservation of Malaysia's beautiful natural landscapes with the tools he has at his disposal as a photographer and digital artist. Through this photo series, YONGL intends to raise awareness of the need for environmental protection and preservation and calls for the invention of solutions that enables us to sustain our environment while enabling economic growth.


YONGL continues to create and inspire Malaysians by depicting the bits and pieces of their everyday life against a backdrop of surrealism. Check out feature stories about YONGL on Free Malaysia Today, the Sun Daily and World of Buzz. Stay updated with YONGL's latest works on his Instagram and Facebook.