Whatever your opinion on this controversial fruit is, we cannot deny the fact that the durian is a national treasure of Malaysia. That is why many Malaysian brands love experimenting fusions of durian with other beloved foods and Nestlé Malaysia is no exception to the rule with its innovative Nestlé Musang King Ice Cream! Once YONGL taste this ice cream, he knew that he had to visually depict the unique flavour combination against the backdrop of the Malaysian landscape that this ice cream is meant to celebrate. Thus, this symbolic visual was born.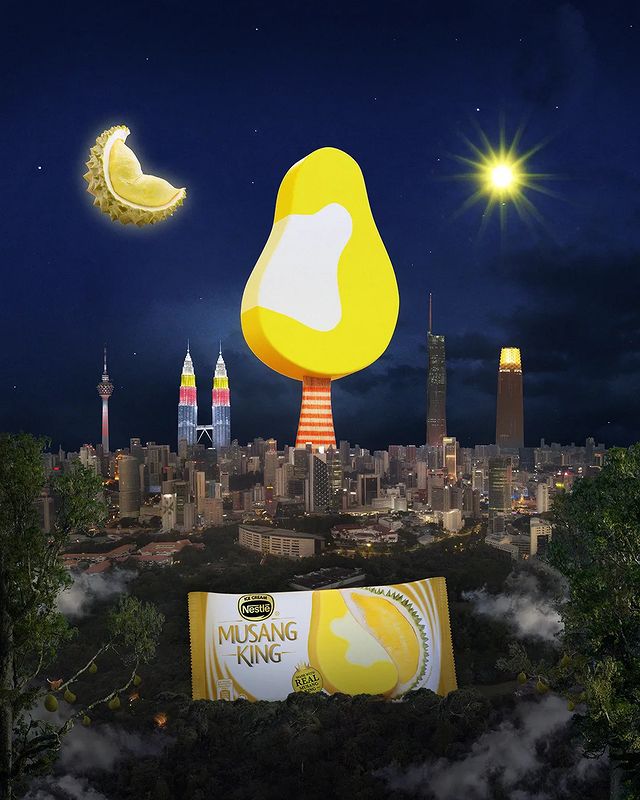 In this image, we see the Nestlé Musang King Ice Cream perched atop a red-and-white striped stick standing tall as the biggest and tallest skyscraper in the KL skyline. Casting a shadow upon the Petronas Twin Towers, KL Tower, Tun Razak Exchange, and Merdeka PNB 118, this ice cream skyscraper symbolises the unique power of the durian as a "strong" smelling and tasting fruit that is loved and embraced by many Malaysians and is considered as an integral part of the Malaysian culture and identity.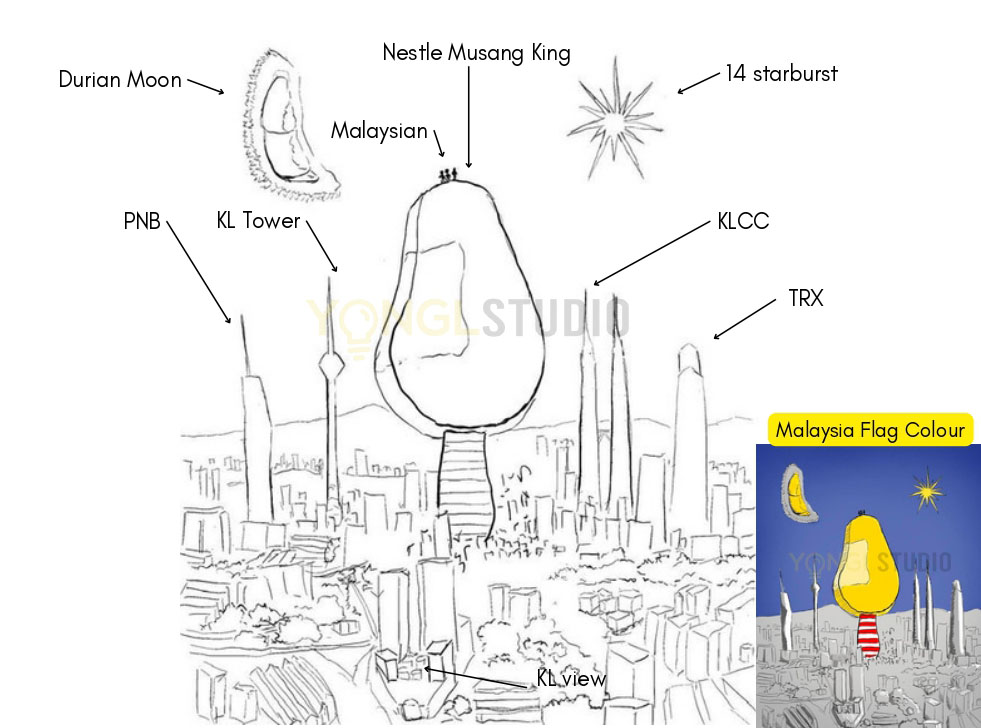 Reflecting a light on this skyscraper is a durian moon; a sliced durian with a thorny green exterior and a rich, custardy yellow interior. This moon shares the sky with a 14-striped star to mirror the one that is featured on the Malaysian flag. Of course, this image would not be complete without a real-life image of the Nestlé Musang King Ice Cream; both to highlight the centerpiece of this image and to advertise this Malaysian masterpiece of an ice cream by a Malaysian-favourite brand to encourage other Malaysians to go tickle their taste buds with this sweet durian treat!
YONGL's intention is to capture and create the tidbits of Malaysian life that build our identities as Malaysians and feature them against a backdrop of surreal Malaysian landscapes. YONGL tells us that it is these small things that make us who we are and thus, we must celebrate these small things in our own special way. 
YONGL continues to create and inspire Malaysians by depicting the bits and pieces of their everyday life against a backdrop of surrealism. Check out feature stories about YONGL on Free Malaysia Today, the Sun Daily and World of Buzz. Stay updated with YONGL's latest works on his Instagram and Facebook.